Our story began 3 years ago when we were chatting about where to go with the business, we have always liked designer handbags but the price tag on these beautiful items is now very high, so we thought finding a fine leather product at a reasonably good price point was a great starting point in our search for a supplier. Acqua London Bags Contact +44 7779604505.
After months of research and a few trips around Europe, we were in a market in Southern Spain talking to stallholders about their leather goods when they mentioned the little known town, up in the hills, where the famous fashion houses/designers had their leather goods made by artisans, whose families had been working in leather goods for centuries. We liked the feel and ethos of this. This town was only a couple of hours away, so off we went…
After meeting several factories and their leather suppliers (kids in a sweetie shop!), we had decided which supplier to go with, a very big decision for a small business like ours.
The next decision was, what design? After more research and a lot of cups of coffee discussing "The Bag", we designed The Belter, a 3 in one bag, that can be worn as a belt bag, a cross body bag and a clutch bag.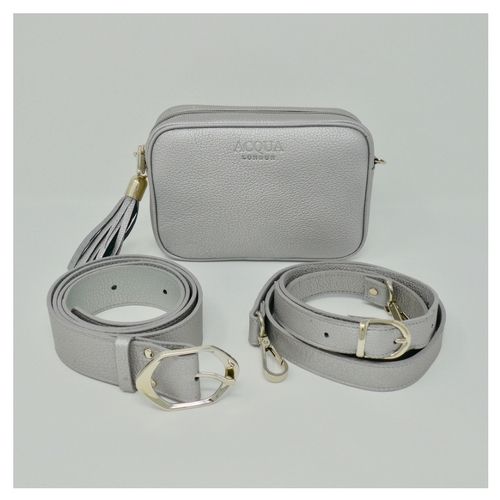 These days, everyday life is hectic, people spend a lot of time travelling, and having a small bag that has a detachable belt, can leave you "hands free" or not put pressure on your lower back, seemed like a good idea. But then, not everyone wants to wear a bag around theirwaist, so we added a removable shoulder strap as well.The bag is big enough to can carry all your essentials and small enough to be discreet and never to be too heavy.
As a first order we decided that 5 colours was a good starting point and we have had "The Belter" madein navy, dark grey, sky blue, platinum and dark magenta – a colour for everyone! We are delighted with the finished product and have ruthlessly tested the bag for strength, quality and usage. It holds up very well…
Why the name? Well, it really is "a Belter" – an example of something "exceptional or outstanding".
We have limited stock left and have been overwhelmed by the interest.
Why go for cheap PU leather when you can have the real deal at a reasonable price point!
For more details visit us Acqua London.